Sudbrook, Wednesday 1st March 2006, evening high tide
The Codfather and Shane B headed to Divers rock for one of the years biggest tides. Armed with black/blow lug and squid they braved the snow and tidal rip in search of cod.
They started fishing around 7pm and were both into the codling striaght away. All the fish were falling at a very short casting range as the tide was causing issues holding bottom. Both Continued to pull in codling most casts all falling to the lug/squid cocktails.
Both had a excellent nights fishing, biggest fish of the night was about a 1lb. Shane B sets a new record for the most fish caught at Sudbrook in a single session, and The Codfathers powers seemed to have returned for now at least......
Shane B - 14 Codling
The Codfather - 6 Codling
Friars Point, Saturday 4th March 2006, night high tide
4 swff members went to Barry to fish Friars Point for the 1st time. Clear, dry but cold night the lads got there at around 8.30pm, baits of choice were black and blow lug, squid and mackerel. After quickly finding a good spot on the left hand side of the point the lads set up in anticipation of a good night.
Very quiet up till high tide with only one or two bites. Then like a lion pouncing on its prey the Codfather lept off his seat box to strike at a bite, he reeled in the 1st fish of the evening a codling of around 5oz. Using his mytsical powers he quickly followed this with another of around 6oz.
Things were looking glum for the other members very little in the ways of bites and high tide had now come and gone. Then out of the blue Elpez2k struck at a bite and reeled in a codling just short of a pound. This was quickly followed by another a little over the 1lb mark.
With things being so quiet the Codfather and Tezza headed for home around midnight leaving Elpez2k and Shane B to brave the ever decreasing temprature. Very few bites for the last hour except a clonker on Shane B's 12worm/2 whole squid cocktail that had both members jump up with excitement, but it failed to come to anything more resulting in Shane B's 1st blank in sometime.
Elpez2k - 2 Codling
The Codfather - 2 Codling
Shane B - Blanked
Tezza - Blanked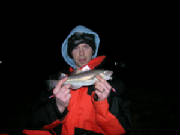 Toms point/Cold Knap, Tuesday 7th March 2006, Evening4 hours up to high
Elpez2k, Shane B, The codfather fished Toms point in terrible conditions. 1st time at this venue for all concerned, and going in the dark in bad weather conditions did not help. Started well down on the ledges with a few bites in the 1st half hour.
The boys soon had to move up the ledges as the tide came in and were exposed to the on coming wind. Not knowing the mark well and with the weather making life difficult the lads moved to the edge of Cold knap beach and fished there for 2 hours without a songle fish and only a few bites. Just as they were packing up Elpez2k wound in to find a small whiting of about 3oz. Victory was his!
Elpez2k - 1 Whiting
Shane B - Blanked
The Codfather - Blanked
Mumbles Pier, Saturday 18th march, High Tide
Four of us went to mumbles pier to fish a charity match organized by Brandon Jones ( British biggest shore caught Cod record holder). We arrived at the pier around 3pm and booked in, we got to meet a few other anglers and had a chat about various venues and tatics. We took Lug,mackerel,squid for bait.
At 4.45pm we were set loose on the pier and the great race to the end section started, anglers went off like greyhounds sprinting to the end gear in tow trying to get the best spots. Elpez2k and Shane B being the more athletic members managed to get a spot on the end platform. The Codfather and Tezza being the more older out of shape type were on the piers higher level facing the lifeboat station (who ate all the pies???).
A very high easterly wind was making life difficult for everyone fishing and the prize pool was looking like anyones with only the odd undersize whiting being caught. Shane B managed to pull in a undersize whiting, The Codfather managed a crab things were looking grim. Elpez2k finaly got a bite managed to connect with the fish only to get tangled up with the guy fishing on his right, fish lost!
By 7.30pm it was obvious it wasn't going to be a great night, two fish in size had been landed between the 20 or so anglers fishing. Both were dabs, one of 4oz one of 8oz.
High tide came at 8.30pm still no improvment in the fishing or weather, Brand came around and told everyone due to the conditions and crappy fishing 9.30pm was pack up time. No more fish for our brave SWFF warriors, in fact nore more bites. Just an ever increasing list of lost tackle for bothe Elpez2k and The Codfather.
Plus points of the night were getting to put some faces to some World Sea Fishing members and listening to brand recall his famous 44.5lb Cod landing. Hopefully our next meeting will be more productive. Final Results:
Shane B - 1 Whiting
The Codfather - Blanked (crabs dont count my friend)
Elpez2k - Blanked
Tezza - Blanked
Sudbrook, 19th March 2006, evening high tide
Shane B and Elpez2k took the remaining bait from Saturdays trip to divers rock. Fished between the hours of 20.30 till 23.30, easterly wind had dropped to a more comfortable level and it was another cold but dry night.
Within 5 minutes of 1st cast Shane B was into a fish quickly followed by Elpez2k. Shane B reeled in a codling of around 5oz, Elpez2k brought in two on the same rig both codling one around 4oz and one around 8oz. All the fish had mouths full of sprats.
Bites continued up till high tide, Shane B landed a few more fish while Elpez2k looked on in disgust. Finaly Elpez2k hooked into a fish only for it to get snagged and lost. Was he going to throw his toys out the pram like the Codfather the day before him??
Shane B carried on landing the odd fish after high tide, Elpez2k started to wonder if Shane B was using WD40? The lads packed up at 23.30, a good night after the terrible trip Saturday and got rid of most of the bait.
Shane B - 6 Codling
Elpez2k - 2 Codling
| | |
| --- | --- |
| | |